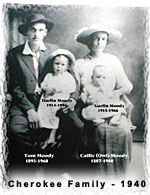 I feel certain that we are, at least in part, descended from Native Americans. There are many verbal accounts, as well as unofficial written accounts to support this. The stories about George and Aggie are good examples - and there are others. Just the pure volume of stories claiming Indian ancestry must indicate that there's some truth to them, but proving this linkage is difficult if not impossible, at least by the standards of proof that are widely accepted.**
The crux of the problem is found in the fact that most of our ancestors did not sign up for the various Indian enrollments that the U.S government organized in the 1800's. In order to 'officially' be considered an Indian you had to be counted on one of these rolls. Our ancestors either didn't want to be counted, free to live their lives as they saw fit in the hills of Kentucky, or they had already been assimilated into the white culture of the period. Although there was much reason to hide, assimilation was more likely the case.
One clue that could support this supposition might be the disposition of native tribes between 1750 and 1792. It was during this time that the major conflicts between the Indians and whites occurred. As a result of these conflicts many Native Americans were killed and, by the Battle of Fallen Timbers in 1792, were either dispersed or subdued. Ironically it was this very fact that made the Kentucky frontier safe for whites to migrate.
Any Indians that remained in the region had either gone deep into the mountains or had been integrated into the white community. Some were successful at this and some were not. Those who remained, and attempted to maintain their native identity, became victims of white hatred. There is possibly no better evidence of this than the 1810 Massacre of Ywahoo Falls (McCreary County) in which over 100 defenseless Chickamauga old men, women and children were brutally murdered and buried in a mass grave under the rockshelter of the falls.
With this in mind there is little doubt that, at least during this period, mixing between the races would have been strictly discouraged and would likely have resulted in violence. Perhaps a half-breed Indian woman passing for white could mix with a white male, but the possibility of a white woman mixing with an Indian male would not have been tolerated. Such relationships, at least to 'white eyes' of the time, would have been the equivalent of a black man having relations with a white woman.
More than likely any mixing occurred well before this period. Perhaps even before 1750 when relations between Indians and whites were still civil - especially on the frontier. In a round-about sort of way, this makes the possibility of Indian heritage for George and Aggie more likely as they were both born around that time.
Now fast forward 50 to 100 years. Indians in the eastern United States have not been a threat for some time. In fact, they are now viewed in a kindly way - the 'noble savage' and all that. Many whites are even beginning to feel proud of their possible link to these people. To top it off, the Federal Government is giving away money and services to anyone who can prove native heritage. Is it any wonder that thousand upon thousands of people applied for membership? Most of these applications were rejected.
The earliest such time was in 1835 for the Henderson Roll. Ron Blevins website, "Sizemore Legend and Fact", has some comments about that roll as it pertains to the Sizemores:
"According to Government testimonies the Sizemore family made application for obtaining grants of funds under the 1835 and 1846 Treaties with the Cherokee Indians. However, from information available, George All and Aggie were not among those applying for grants or funds. The family known to have applied was another George Sizemore known as George Gullie, Goulden or Gollden. He was also referred to as Golden Hawk Sizemore. He was born in North Carolina in 1783 and lived in Magoffin and Floyd Counties. He married Sallie Anderson in Hawkins County, Tennessee. The 1860, 1870 and 1880 Census lists the children of George Golden and Sallie Sizemore as having been born in Floyd and Magoffin Counties. They appear to have been related to the Leslie County Sizemores. In fact, T. C. Sizemore claims to be a direct descendant of Golden Hawk."
In the early 1900's there were three final rolls commissioned by the government to settle once and for all who was an Indian and who was not. These were the Guion Miller, Dawes and Baker rolls. Many of our relatives, aware that government benefits could be had, attempted to sign up for these rolls. To my knowledge (and I admit that I have a great deal more research to do in this area before I give up for good) no one directly related to our line was successful in these attempts. The reason being that their ancestors had not signed up for the earlier rolls, and therefore couldn't be linked.
Here are some enrollment applications, or ECA's, by various Sizemore's of the time. While all of these application were rejected, they remain interesting as accounts of Sizemore lineage and an authentic voice of the times.
ECA # 10133 by Frank Sizemore of Pineville, Wyoming Co, VA, born 1867, son of John M. Sizemore and wife Millie Green. Says parents resided in Wyoming County in 1851 and that his father died about 1894. Says his father John M. Sizemore was the son of George J. Sizemore and wife Jennie Baldwin, and that his mother Millie was the daughter of Polly Green. Lists children of grandparents George J. and Jennie Sizemore as Frank, Ned, Owen, Solomon, Joseph, and John M. Sizemore, and Oma Lambert, Jennie Cline, Reney Billips, Sess Milam, and Elizabeth Payne. List ancestry as My father John M. Sizemore, son of George J. Sizemore, son of Ned Sizemore Jr, son of George Sizemore, son of Ned Sizemore Sr who is said to have been of Indian Blood but his wife was a Cherokee woman. (RLB note: Frank erroneously lists his grandfather as the son of Ned Jr. who was really his older brother.) There is quite a bit of correspondence in support of this ECA and one letter in particular is of interest. It reads: "Mr. Miller, the Sizemores of old man Ned was the people that was actually entitled to that money tho we all got our blanks wrong. We claimed through his descent and we ought to a claimed through her descent. We all failed to give her Indian name and it was Aruna Hart. I suppose I had heard my grandfather G.J. Sizemore claimed the Indian Blood by his mother. He claimed her to be the Cherokee Indian. We are the people no doubts, but our applications was wrong I suppose. Yours Truly, Frank Sizemore" In another letter Frank writes "Mr. Guion Miller: My kind friend, will inform you that my great grandfather sometime in the 19th century, he married this Cherokee squaw woman. Ed Sizemore was his name and Elizabeth Hart, if mistaken not, was her name...."
ECA # 12477 by David A. Osborne of Beldon, Ashe Co, NC, born 1869 in Ashe, son of James Osborne and wife Clemmanzy Bare. Says his father died in 1902 and mother in (1906?). Says grandparents were David and Nancy Osborne, and Joseph and Susie Bare. States ancestry as James Osborne my father was the son of David Osborne. David Osborne was the son of Jesse Osborne. Jesse Osborne was the son of Elias Osborne and Sally Osborne. Said Sally Osborne was the daughter of Ned Sizemore who was a full blood Cherokee Indian. There is much correspondence supporting this ECA. One letter dated 6 Dec. 1907 from Beldon, NC reads "Nathan Bickford & Associates - Washington, D.C. Gentlemen: 'After investigation, I find Ned Sizemore's wife's name was Nettie and that she died in Ashe (now Alleghany) Co., NC about the year 1859 or probably a little earlier. I think the following is a correct list of names of his children. viz.: George Sizemore, Ned Sizemore Jr, Owen Sizemore, Hiram Sizemore, Catherine Sizemore, Sally Sizemore, Lydia Sizemore, Dolly Sizemore and Bettie Sizemore. Bettie was called for a nickname "Sookie" she married a Stamper; Dolly married a Hash; Lydia married a Blevins; Catherine a Hart and Sally through whom the Osborne's claim married Elias Osborne. ...."
ECA # 5113 by Riley Blevins of Ashe Co, NC (Post Office is Park, Grayson Co, VA), born 1824 in Ashe Co, son of Eli Blevins and wife Milly Brinegar, both of whom were born in Ashe County, and lived there in 1851. Says his father died in 1861 and his mother about 1896. Lists his brothers and sisters as Jesse d. 1896, James, Geo, Bartlet, Lydia and Elizabeth Blevins. Lists his grandparents as James Blevins and wife Lydia Sizemore and their children as Armstrong, Edward, Daniel and Wells Blevins. Gives his ancestry as Riley Blevins a son of Eli and Milly Blevins who was the son of James and Lydia Blevins who was the daughter of Ned Sizemore a full blood Cherokee Indian.
Hundreds of Sizemores enrolled. 98% were rejected. Click here to see an actual image of a whole page of the Guion Miller Roll with nothing but Sizemores on it!
About a dozen actually made it onto the Dawes rolls. To see those names click on the Creek Nation Genealogy link below. About a third of the way down the page is a form called "Native American Data". Enter 'Sizemore' and search. Although these Sizemores made the rolls, there is no evidence, so far, that connects then to our Sizemores.
The bottom line is I have not been able to find any solid evidence that would prove our Native American heritage, but this is by no means the end of the story. There is still research that could be done, and I intend to keep at it until I am satisfied, once and for all, that we are or are not connected. In the meantime, here are some links you can follow to understand the subject, and the difficulties involved, better.
**(Authors Note: since I first wrote these words, much DNA testing has been done on known George All ancestors. Through these tests it has been proven scientifically that George carried Native American blood. Exactly how much, from what tribe, or when that blood entered the line, is not known. However, this means that if you are an ancestor of George Sizemore then you ARE part Native American.)